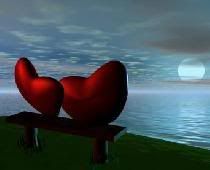 I played the love doctor again today, well rather this time I played a male nurse and just listened while I took the patient's blood pressure and checked their heart beat allowing two of my female friends {Definition: (Fe)male: Male with iron added, for greater strength, ductility, and magnetism} to wheel and parry about what somebody didn't do for them Blah, Blah, Blah ~
On the Married Couple
Whether consciously or unconsciously they've crafted a set of rules for themselves. If I were a fly on the wall, I would probably comment on why they ain't invite me to the reception notice a common theme in their relationship: Who will impose ideas and who will follow them? Though they generally get along well, and have a lot of respect for each other, no kids in the house so they probably have lots of sex they have different ideas as to what a relationship / marriage should be all about. Thus the focus here is the issue of what shared ideology will work for them.
Do as I say, not as I do:
✍ Learn to compromise without resentment, swallow your pride occasionally and work for the common cause.
On the Friend Guy Friend Girl Couple
Their focus is power, whether the challenge is to seize it, exercise it, or give it up. I've noticed a spiritual evolution process; first striving for and grasping power, then learning more about themselves and their relationship and finally letting go of power in favor of higher ends. They may have to acknowledge their social or personal power and live with it for a while before they can give it up. Ayo! social & personal power I'mma let you finish but the power of love is one of the greatest powers of all time! Along the way they may come to realize it and understand that it should not be given up but given away and shared with others freely.
Do as I say, not as I do:
✍ Don't get carried away by power, seek your own path, simple acts of kindness can be very strong.
Mr.TramueL is a four letter word beginning with L and ending in E enabler. ☛ Stay on your toes kids, L O V E
Two Fingers, One Word ~